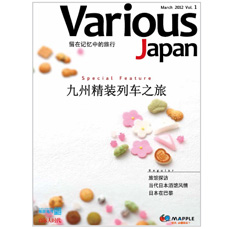 We have launched advertorials in free publications in China as our new effort in expanding overseas operations. In a tie-up with WOMEIMedia, one of the leading corporate groups in China, we have set up our pages under the title "Various Japan" in the free travel magazine TRAVEL GEOGRAPHY and the free golf magazine GOLF ERA. In these pages, we introduce tourist information about Japan and other parts of the world, along with informal images of Japan that you can see in everyday life, and the latest trends in Japanese culture that are often dubbed "Cool Japan."
These free magazines are available on high-speed trains and commercial aircraft in China. Our readership consists mainly of wealthy Chinese people.
* Issues of TRAVEL GEOGRAPHY are distributed in high-speed trains. The Chinese high-speed railway network boasts 101 routes, 622 rail cars, 1,482 trains, and a monthly ridership of 30 million.
* Issues of GOLF ERA are also distributed in aircraft operated by China Eastern Airlines, Hainan Airlines, and Sichuan Airlines while TRAVEL GEOGRAPHY can be found in high-speed trains. All combined, the number of domestic and international flights total up to 530, carrying 94 million passengers per year.
We contribute to further vitality of China's rapidly-growing tourism market by offering international travel information to a significant number of Chinese people.