Overseas travel guides for the Japanese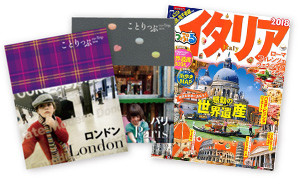 Tourist spots in Japan are not the only destinations that our guidebooks cover. We visit and explore overseas tourist sites and attractions to publish guidebooks for Japanese travelers.
Our travel guides cover popular countries and regions around the world, ranging from the West (e.g. France, Italy, the United Kingdom, the United States) and Asia (e.g. China, Korea, Singapore, Taiwan) to tropical resorts (e.g. Hawaii and Guam). During Japan's holiday week in May called Golden Week, and summer and winter vacation seasons, a slew of Japanese tourists enjoy their trips using MAPPLE guidebooks.